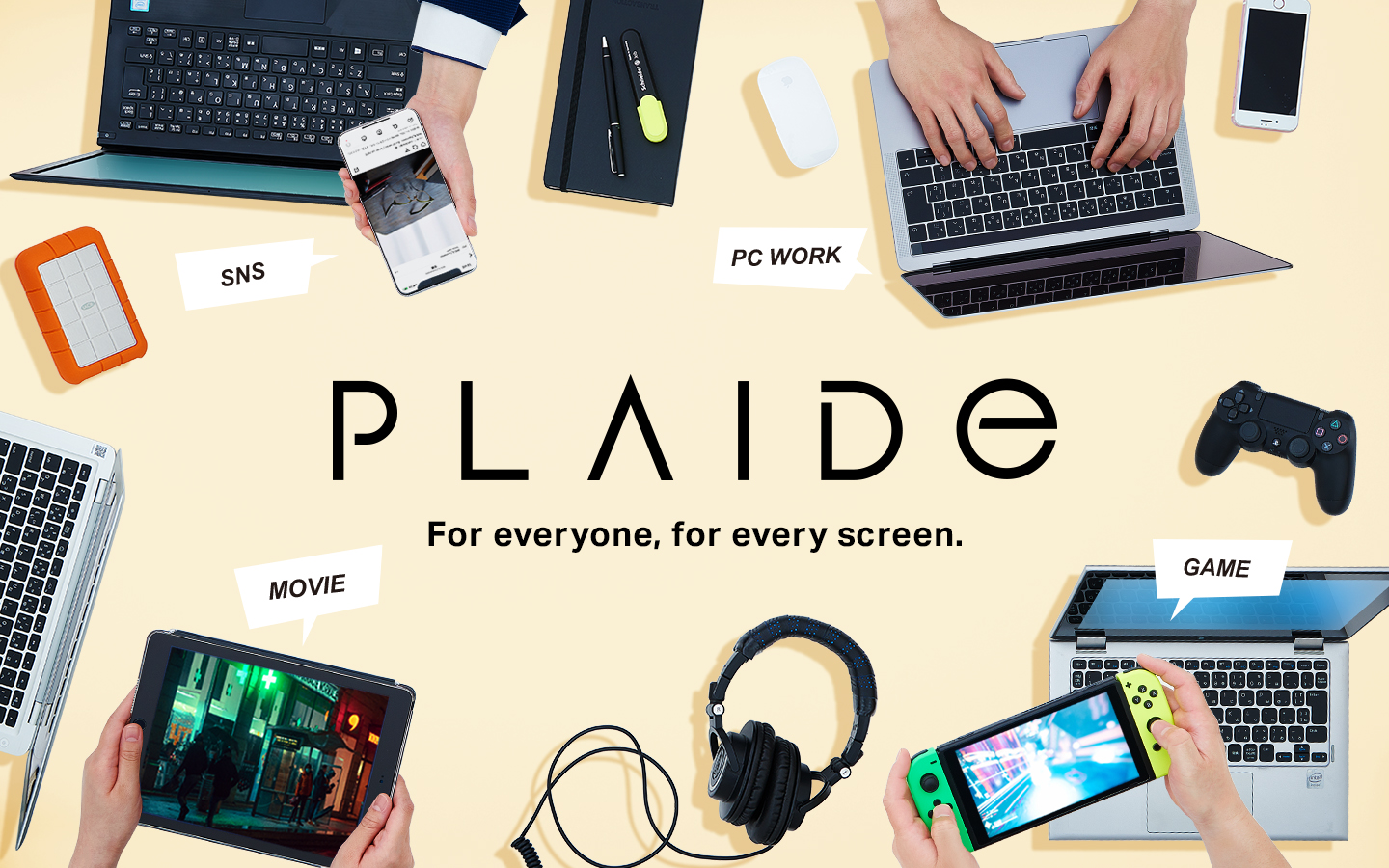 Everyday is different, with PLAIDe.

The world appears clearer and clearer
PLAIDe original lens.

The best comfort and impression.
Unparalleled frame balance.

No more misalignment. No more fatigue.
Welcome to a world of endless comfort.

Let's change the world.
PLAIDe, the key item that changes every day.

Comfortable frame for various scenes of digital life and long hours of use
High specs that will make your long hours of gaming or work more comfortable. The lightweight injection front and beta titanium temples provide a comfortable fit that will make you forget you're wearing them, and all three front styles are suitable for both private and business use, making them perfect for any occasion. The soft resin padding and rubberized modernity provide a stable and comfortable fit. We will continue to change the way you look at your modern digital life in comfort.
The perfect style for any occasion.
The injection-molded front is overwhelmingly light. Two square front styles and one Boston front style are available. It is a classic style that can be used anytime, anywhere, by anyone, regardless of gender and regardless of the occasion.
Temples that always produce a comfortable fit.
Elastic beta titanium is used for the temples. Together with the lightweight front, it produces a supple feel when wearing. Temples with a thickness of 0.7 mm and a modern design with a thickness of 2.5 mm ensure a large surface area that touches the side of the head when worn. This ensures a comfortable fit even when wearing a headset. With a temple shape that suppresses deformation and warping, the performance remains excellent even with long hours of use. With a temple design that produces a high level of quality while maintaining high functionality, these glasses demonstrate their true value in any situation.
Comfortable pads and modern
The nose pads are made of a soft resin that provides a good feel and fit. The modern is made of rubber material to create a comfortable fit.
"Ultra-low reflection coating" for optimal display to reduce reflection
The light emitted from the display of smartphones, PCs, and game screens not only reflects off the lens, but also causes flickering and reflection when the light from the lighting hits the back of the lens, which can interfere with concentration. The PLAIDe lens has a unique low reflection coating that reduces the reflection on the lens surface by 85% compared to conventional blue light cutoff coatings*1, reducing reflection and creating an environment in which you can concentrate. 1 Double-sided reflectance (400nm – 650nm)
Blue light cut with natural color
PLAIDe lenses use a special gray dye (10% concentration) that suppresses the yellowing of certain wavelengths, thus maintaining the natural color and increasing the contrast and clarity of the display while blocking the blue light that can be harmful to the eyes. The effect is to increase contrast and make the display look clearer.